CHHA-BC Resource Centre office has moved! Our new address as of December 1, 2014 is: #216-9181 Main Street, Chilliwack, BC V2P 4M9. Our office phone number and email addresses are the same.

Summer Hours for the CHHA-BC Resource Centre in Chilliwack: Tuesdays to Thursdays from 10 am to 1 pm until September 4, 2016

Job Posting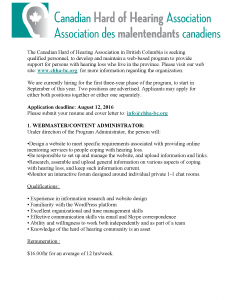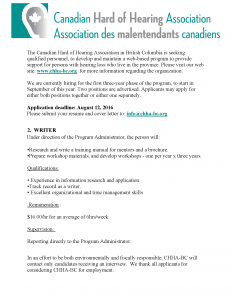 The Canadian Hard of Hearing Association in British Columbia (CHHA-BC) is seeking qualified personnel, to develop and maintain a web-based program to provide support for persons with hearing loss who live in the province.
CHHA-BC is currently hiring for the first three-year phase of the program, to start in September of this year.
Two positions are advertised.
Applicants may apply for either both positions together or either one separately.
Click on the pictures to see full details about the Job Positions available. Deadline is August 12, 2016.

A new handout "Disclosure in the Workplace" has been created by the CHHA-BC Youth Support Program. This handout will be useful when looking for a job this summer! Click here for more details! (Acrobat Reader required)

This month's CHHA-BC e-LOOP for May 2016 is available by clicking here or visit the CHHA-BC Newsletter page.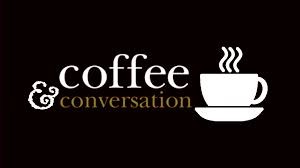 Thursday Morning Drop In: We welcome hard of hearing persons at the Resource Centre starting at 10:00 am. Join us for coffee and connect with other hard of hearing individuals. Joe and Sharon will be available to discuss various topics such as: coping strategies, advocacy and technical concerns regarding assistive technology.

Save the date! The CHHA National Conference 2017 will be held from May 25-27, 2017 at the Mary Winspear Centre in beautiful Sidney, BC! More details to come: http://www.chha.ca/conference/2017/
Thank you for those who attended the 2016 AGM on May 21, 2016. Click on the for the comprehensive 2016 Annual General Meeting Report.
Prevalence of hearing loss among Canadians aged 20 to 79: Audiometric results from the 2012/2013 Canadian Health Measures Survey – Released on July 15, 2015
Interested in teaching Speechreading Classes in your community? Contact Leslee Scott for more information. Her email address is: leslee@hearinglosseducator.com.

International Federation of Hard of Hearing Young People is pleased to present their 2016 Spring Edition of their Newsletter. Click the link HERE or you can find this newsletter on https://issuu.com/ifhohyp_2/docs/one-on-one-pdf__3_. Check out an interesting article on "Sound of Silence" (see the article on pages 10-11).
UBC School of Audiology and Speech Sciences is doing a new study project on hearing aid use called, "Project Title: Contextual Momentary Assessments by Wearers of Hearing Aids" They still need a few more volunteers to meet their required numbers for the study. It should be interesting to participate in. If you have a hearing loss and want to participate in the study, please click on the attached flyer for more information and a contact email address.

Check out this latest edition of Allied Hearing Health Magazine!. This online magazine provides a one-stop resource regarding hearing healthcare, profiles of related organizations, information on the latest assistive devices and technology, and articles about the latest research written by world renowned professionals in this field.

CHHA North Shore Branch offers Sound Advice monthly meetings which is held on the first Friday of each month from 10:00 am to 12 noon at the West Vancouver's Senior Activity Centre, 695-21st Street in West Vancouver. There is no meetings in the months of July and August. Sound Advice is a monthly series of informal workshops and discussions around issues affecting hard of hearing. For more information, call 604 926 5222.