The Christmas Experience!  Our annual fundraising event is happening on Thursday, December 19, 2019, 12 pm at Michael J. Fox Theatre, 7373 MacPherson Avenue in Burnaby.  The show features noted Children's Entertainer and Ventriloquist Kellie Haines, as well as a visit from Santa Claus.  For more information, please contact campaign office at @ campaign@chha-bc.org

CHHA Chilliwack Speechreading Level 1 – due to lack of registration, the class is canceled until September.  series of 10 classes are on Thursday mornings March 21 to May 23rd, 10 am to 12 Noon.  Stephanie Bryant will be teaching the classes at CHHA-BC Resource Centre, 216-9181 Main Street.  For more information and registration, please email info@chha-bc.org or phone: 604 795-9238.
CHHA Vancouver is hosting its 9th Annual Walk2Hear on Sunday, September 22nd, 2019, 1:30 pm at Jericho Beach Park East End (between 2nd Avenue and Wallace Street).  There is 2 KM and 5 KM walk. Door Prizes!  Come out and support a great cause! Registration is at this page ->  https://www.canadahelps.org/en/charities/canadian-hard-of-hearing-association-vancouver-branch/p2p/2019-walk-2-hear/   If you cannot be there in person, but wish to donate or want to encourage others to donate, please above link. For more information, please see the details by clicking on the foot on the right.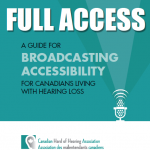 The Canadian Hard of Hearing Association (CHHA) is pleased to collaborate with the Canadian Radio-Television and Telecommunications Commission (CRTC) and the Broadcasting Accessibility Fund (BAF) which promote accessibility measures and ensure they are in place. CHHA is grateful to the Broadcasting Accessibility Fund for its support of the creation of this guide. This guide examines the kinds of accessibility regulated by the CRTC which are designed to support people living with a hearing loss. Full Access – A Guide for Broadcasting Accessibility is available for loan at CHHA-BC office or your local branch as a hard copy, or you can find the Guide in pdf format at CHHA's National Accessibility Hub's website.
CHHA-BC Chapter, in a joint initiative with CHHA Vancouver Branch, has established a web-based Online Mentoring Program (OMP) for individuals with a hearing loss in British Columbia. The purpose of this program is to provide a medium for peer interaction, guidance, and the practice of coping skills through one-to-one mentor support. Check out CHHA-BC's Online Mentoring Program as there are links to general information on various aspects of coping with hearing loss, from people who themselves have hearing loss; confidential one-to-one chatroom for those seeking guidance and mentoring in adjusting to their own hearing loss.
This month's CHHA-BC e-LOOP for September 2019 is available by clicking here or visiting the CHHA-BC Newsletter page.
Prevalence of hearing loss among Canadians aged 20 to 79: Audiometric results from the 2012/2013 Canadian Health Measures Survey – Released on July 15, 2015
CHHA North Shore Branch offers Sound Advice monthly meetings which are held on the first Friday of each month from 10:00 am to 11:30 am at the West Vancouver's Senior Activity Centre, 695-21st Street in West Vancouver.  The second monthly meetings are held on the last Monday of each month from 10 am to 11:30 am at the Silver Harbour Seniors' Centre, 144 East 22nd St. North Vancouver.  There are no meetings in the months of July and August. Sound Advice is a monthly series of informal workshops and discussions around issues affecting hard of hearing individuals. For more information, call 604-926-5222.