CHHA-BC Resource Centre office has moved! Our new address as of December 1, 2014 is: #216-9181 Main Street, Chilliwack, BC V2P 4M9. Our office phone number and email addresses are the same.
The Annual Christmas Experience Show is on December 20, 2018 from 1 pm to 2:30 pm at Michael J Fox Theatre, 7373 MacPherson Avenue in Burnaby. It features a noted Children's Entertainer and Ventriloquist, Kellie Haines. And of course, a visit from Santa Claus and distribute gift bags to the children. If you like to sponsor a child, email our Campaign office at campaign@chha-bc.org and they will happy to email you the information. For more information,call our office at 604 795 9238.
The CHHA Vancouver Branch is looking forward to hosting our 8th Annual Walk2Hear walkathon on Sunday, September 23, 2018, 1:30 pm at Jericho Beach Park (between 2nd Ave and Wallace Street). Present registered walkers will have chance to enter to a draw for the grand prize of two Economy Class return tickets for travel to any Air Canada scheduled destination in North America (including Hawaii). Travel must be completed one year from the date of the event, blackout periods apply and the winner must abide by the conditions of the prize. The draw will take place around 2:00 pm on Sept. 23 after the walk. To register or to sponsor a registered walker click on this link: https://www.canadahelps.org/en/charities/canadian-­?hard-­?of-­?hearing-­?association-­?vancouver-­?branch/p2p/walk2hear2018/. Registration is $10. Funds raised go towards Branch activities. For more information, check out CHHA VAncouver Branch's website.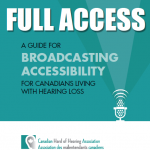 The Canadian Hard of Hearing Association (CHHA) is pleased to collaborate with the Canadian Radio-Television and Telecommunications Commission (CRTC) and the Broadcasting Accessibility Fund (BAF) which promote accessibility measures and ensure they are in place. CHHA is grateful to the Broadcasting Accessibility Fund for its support of the creation of this guide. This guide will examine the kinds of accessibility regulated by the CRTC which are designed to support people living with a hearing loss. Full Access – A Guide for Broadcasting Accessibility is available for loan at CHHA-BC office or your local branch as a hard copy, or you can find the Guide in pdf format at CHHA's National Accessibility Hub's website.
CHHA-BC Chapter, in a joint initiative with CHHA Vancouver Branch, has established a web-based Online Mentoring Program (OMP) for individuals with a hearing loss in British Columbia. The purpose of this program is to provide a medium for peer interaction, guidance, and the practice of coping skills through one-to-one mentor support. Check out CHHA-BC's Online Mentoring Program as there are links to general information on various aspects of coping with hearing loss, from people who themselves have hearing loss; confidential one-to-one chatroom for those seeing guidance and mentoring in adjusting to their own hearing loss.
This month's CHHA-BC e-LOOP for September 2018 is available by clicking here or visiting the CHHA-BC Newsletter page.
Prevalence of hearing loss among Canadians aged 20 to 79: Audiometric results from the 2012/2013 Canadian Health Measures Survey – Released on July 15, 2015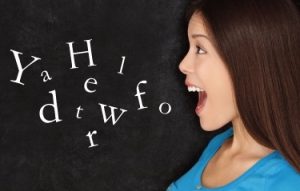 Interested in teaching Speechreading Classes in your community? If you have taken speechreading classes, have experience with audiology/speech pathology or Deaf education, you might be well qualified to take this 5-day Speechreading Instructor training to teach Let's Talk (LT) followed by 3-day training in Let's Talk Some More (LTSM). The latter is taught after instructors have taught a class and are interested to teach LTSM. LT instructor training will be offered in August 2018 in Chilliwack.
This program was developed by experienced hard of hearing speechreading instructors throughout Canada through the Canadian Hard of Hearing Association (CHHA). There are many demands by the growing population of hard of hearing adults and seniors for programs to learn more about hearing loss and how to cope with it.
Leslee Scott is CHHA's Western "Instructor" on Vancouver Island to provide instructional training for this program. If you are interested in taking this training in August 2018 in Chilliwack, you may contact her at leslee@idhhc.ca or write to her at 130-1555 McKenzie Ave, Victoria BC V8N 1A4. For other training locations across Canada, you may contact the CHHA national office chhanational@chha.ca to find other instructors and potential training dates.
International Federation of Hard of Hearing Young People is pleased to present their 2017 Fall Edition of their Newsletter. You can find this newsletter on https://www.ifhohyp.org/new_site/wp-content/uploads/2013/02/ifhohyp_newsletter.pdf. Check out an interesting article on "Finding your Way" by Bowen Tang (see the article on pages 8-13).
CHHA North Shore Branch offers Sound Advice monthly meetings which are held on the first Friday of each month from 10:00 am to 12 noon at the West Vancouver's Senior Activity Centre, 695-21st Street in West Vancouver. There are no meetings in the months of July and August. Sound Advice is a monthly series of informal workshops and discussions around issues affecting hard of hearing individuals. For more information, call 604-926-5222.