Annual General Meeting 2019 – The AGM is coming up on May 11, 2019 at BC Family Hearing Resource Centre, 15220 – 92 Avenue in Surrey.   CART is provided.  Check back for more information coming soon!  For more information, feel free to call us at our toll free 1 866 888 2442 or email us at info@chha-bc.org
CHHA Vancouver Branch is starting the new Year with Aging Well with Hearing Loss workshop on Saturday, February 23, 2019, 11 am to 12:30 pm at Western Institute for the Deaf and Hard of Hearing, 2125 West 7th Avenue in Vancouver.  Guest Speaker is Kathy Pichora-Fuller.  She is a full-time professor for Psychology at University of Toronto.  She was a professor of Audiology at University of BC.   She combines her experiences in rehabilitative audiology with experiential psychology and has earned an international reputation for her interdisciplinary approach linking research on auditory and cognitive processing during communication in everyday life. She is the audiology expert for the Canadian Longitudinal Study of Aging and a member of the sensory-cognitive-communication team of the Canadian Consortium on Neuro-degeneration in Aging.  For more information, check out CHHA Vancouver's website.  RSVP to chhavancouver@gmail.com by February 15.  CART Captioning is provided.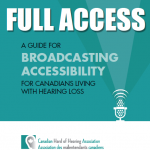 The Canadian Hard of Hearing Association (CHHA) is pleased to collaborate with the Canadian Radio-Television and Telecommunications Commission (CRTC) and the Broadcasting Accessibility Fund (BAF) which promote accessibility measures and ensure they are in place. CHHA is grateful to the Broadcasting Accessibility Fund for its support of the creation of this guide. This guide examines the kinds of accessibility regulated by the CRTC which are designed to support people living with a hearing loss. Full Access – A Guide for Broadcasting Accessibility is available for loan at CHHA-BC office or your local branch as a hard copy, or you can find the Guide in pdf format at CHHA's National Accessibility Hub's website.
CHHA-BC Chapter, in a joint initiative with CHHA Vancouver Branch, has established a web-based Online Mentoring Program (OMP) for individuals with a hearing loss in British Columbia. The purpose of this program is to provide a medium for peer interaction, guidance, and the practice of coping skills through one-to-one mentor support. Check out CHHA-BC's Online Mentoring Program as there are links to general information on various aspects of coping with hearing loss, from people who themselves have hearing loss; confidential one-to-one chatroom for those seeking guidance and mentoring in adjusting to their own hearing loss.
This month's CHHA-BC e-LOOP for November 2018 is available by clicking here or visiting the CHHA-BC Newsletter page.
Prevalence of hearing loss among Canadians aged 20 to 79: Audiometric results from the 2012/2013 Canadian Health Measures Survey – Released on July 15, 2015
International Federation of Hard of Hearing Young People is pleased to present their 2017 Fall Edition of their Newsletter. You can find this newsletter on https://www.ifhohyp.org/new_site/wp-content/uploads/2013/02/ifhohyp_newsletter.pdf. Check out an interesting article on "Finding your Way" by Bowen Tang (see the article on pages 8-13).
CHHA North Shore Branch offers Sound Advice monthly meetings which are held on the first Friday of each month from 10:00 am to 12 noon at the West Vancouver's Senior Activity Centre, 695-21st Street in West Vancouver. There are no meetings in the months of July and August. Sound Advice is a monthly series of informal workshops and discussions around issues affecting hard of hearing individuals. For more information, call 604-926-5222.