CHHA-BC Resource Centre office has moved! Our new address as of December 1, 2014 is: #216-9181 Main Street, Chilliwack, BC V2P 4M9. Our office phone number and email addresses are the same.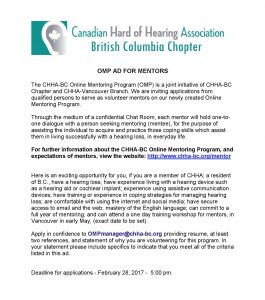 CHHA-BC Chapter, in a joint initiative with CHHA Vancouver Branch, is establishing a web-based Online Mentoring Program (OMP) for individuals with a hearing loss. The purpose of this program is to provide a medium for peer interaction, guidance, and the practice of coping skills through one-to-one mentor support. Click on the graphic on the left to open up the PDF file for more information.
Check out CHHA-BC's Online Mentoring Program for more information.
CHHA-BC Youth Peer Support: Back to School – The first day back after summer break can be tough for everyone, especially if you're starting at a new school with new teachers and new classmates. If you have a hearing loss, the first day of school may be filled with anxiety and nervousness; but it doesn't have to be! Below I will outline a few tips for how to succeed on your first day back … more ->
This month's CHHA-BC e-LOOP for May 2017 is available by clicking here or visit the CHHA-BC Newsletter page.
Save the date! The CHHA National Conference 2017 will be held from May 25-27, 2017 at the Mary Winspear Centre in beautiful Sidney, BC! More details to come: http://www.chha.ca/conference/2017/
CHHA-BC AGM will be held on Friday, May 26, 2017 at the Mary Winspear Centre in Sidney. The time for AGM is from 4:30 pm to 5:30 pm.
Prevalence of hearing loss among Canadians aged 20 to 79: Audiometric results from the 2012/2013 Canadian Health Measures Survey – Released on July 15, 2015
Interested in teaching Speechreading Classes in your community? Contact Leslee Scott for more information. Her email address is: leslee@hearinglosseducator.com.
International Federation of Hard of Hearing Young People is pleased to present their 2016 Fall Edition of their Newsletter. You can find this newsletter on https://issuu.com/ifhohyp_2/docs/pdf__2_. Check out an interesting article on "Human Rights and CRPD – What does it mean to you and me?" (see the article on pages 6-7).
CHHA North Shore Branch offers Sound Advice monthly meetings which is held on the first Friday of each month from 10:00 am to 12 noon at the West Vancouver's Senior Activity Centre, 695-21st Street in West Vancouver. There is no meetings in the months of July and August. Sound Advice is a monthly series of informal workshops and discussions around issues affecting hard of hearing. For more information, call 604 926 5222.1170